Sale!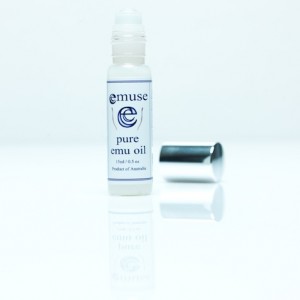 Purchase with Purchase ~ Roll on 15ml @ $12.00
$25.00
Purchase with purchase promotion.
Buy a regular item and you are entitle to purchase this roll on at a special discounted price.
Product Description
The Pure Emu Oil Roll on comes in a handy little Roll on bottle, making it ideal to carry around in your bag or in your car or to have it on hand whenever you may need to use it. This makes it so easy so it can be used anywhere, in the office, the bar or when on the move. Simply apply a small amount of the healing oil to the desired area and then done.
The Pure Emu Oil Roll On is 15 ml in Size.
Benefits of the Pure Emu Oil Roll On
With its many benefits and properties Emu Oil will help moisturize, sooth sensitive skin, relieve wind or sun burn and help deeply and naturally heal the skin. Some of the many popular benefits include, reducing wrinkles, reducing fine lines, getting rid of acne, reducing pimples, healing skin rashes and stopping eczema to name a few. Basically the roll on is a bit of an all round healer in a small convenient tube.
"Pure Emu Oil is excellent used in skin care products for the use of it's anti-inflammatory, deep healing properties and omega benefits.."
Directions for Emu Oil Roll on
For external use – Apply a small amount of the oil from the roll on to the desired area and rub gently in small circles into your skin.
Tips of How to Use for the Emu Oil Roll On
Best to always keep the bottle out of direct sunlight to maintain full potency. One can always place in the fridge if desired, however just remember the oil thickens and you will need to wait until it warms to loosen.
Rub into the desired area of the body daily to reduce pain, reduce wrinkles, fine lines and skin inflammation.
A handy Roll on bottle can be kept or taken anywhere easily.
Additional Information