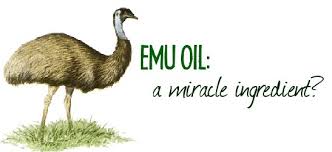 Emu Oil Research –  various studies were performed over the past 15+ years worldwide, The most profound finding is that Emu oil is a multi-use substance that works in harmony with various functions of the body to help humans become healthier. It's unique bond chain formation is believed to be it's shining star.
Likewise, Emu oil may help different people in different ways. We are all unique in our genetic make-up and Emu oil seems to recognise the uniqueness of our genetics and helps the body where it is lacking, is inflamed, or needs nutrition that can be supplied via Emu oil.
Fatty Acid Analysis of Emu Oil
By: Dr. Paul Smith, Dr. Margaret Craig-Schmidt, Amanda Brown at Auburn University.
Summary: Analysis of fatty acids in emu oil reveals that it contains approximately 70% unsaturated fatty acids. The major fatty acid found in emu oil is oleic acid, which is mono- unsaturated and which comprises over 40% of the total fatty acid contents. Emu oil also contains both of the two essential fatty acids (EFA's) which are important to human health: 20% linoleic, and 1-2% alpha-linolenic acid.
Fatty Acid Composition: Comparative analysis of emu, ostrich and rhea oil.
By: Dr. Margaret Craig-Schmidt and K.R. William at Auburn University. (1996)
Summary: A comparison between oil rendered from the fat of the emu, the ostrich and the rhea reveals that the predominant fatty acid in ostrich and rhea oils in palmitic acid, and of emu oil is oleic acid.
International Emu Oil Guidelines
By: The AEA Oil Standards Team, Lee D. Smith (Team Leader) (1997)
Summary: (a) The text part of the Guidelines consists of the Executive Summary, the Introduction, and Background, and gives the requirements for the handling of emu fat to ensure optimum quality of the finished oil, from bird handling and processing to fat handling and cold storage.
(b) Actual oil testing criteria are summarized within the Emu Oil Guidelines. The testing criteria would be required by laboratories testing samples of emu oil to make sure the oil satisfies the guidelines for safety and consistency. All oil testing laboratories and oil rendering facilities should have a copy of the Emu Oil Guidelines.
Emu Oil: Comedogenicity Testing
By: Department of Dermatology, at University of Texas Medical School, Houston.
Summary: Testing using the rabbit ear histological assay, with emu oil in concentrations of 25%, 75% and 100% shows that emu oil in concentrations of up to 100% is non-comedogenic, i.e. it does not clog the pores of the skin.
Moisturizing and Cosmetic Properties of Emu Oil: A Double Blind Study
By: Dr. Alexander Zemtsov, Indiana University School of Medicine: Dr. Monica Gaddis, Ball Memorial Hospital; and Dr. Victor Montalvo-Lugo, Ball Memorial Hospital.
Summary: Eleven human subjects took part in a double-blind clinical study which compared emu oil with mineral oil in texture, skin permeability and moisturizing properties, as well as comedogenicity and irritability to the skin. No irritation to the skin was observed with either oil. However, comedogenicity of emu oil was significantly lower than that of mineral oil, and all subjects stated a unanimous preference for emu oil.
Composition of Emu Oil: The Micro View
By: Dr. Leigh Hopkins, AEA Oil Standards Team (Research Leader)
Summary: When compared with human skin oil, the fatty acid composition of emu oil is found to be quite similar. In both types of oil, mono-unsaturated oleic acid is the most prevalent fatty acid, followed by palmitic acid, then linoleic acid, which is an EFA. This similarity may be one of the factors enabling emu oil to have such a positive action on human skin.
Emu Cream Assists Lidocaine: Local Anesthetic Absorption through Human Skin
By: Dr. William Code. (Presented at the 88th American Oil Chemists Society annual meeting
Summary: In his initial work with an emu oil based cream combined with spearmint oil and lidocaine, Dr. Code has found that this mixture appears to produce a reduced sensation in the skin as compared with another mixture of local anesthetics without emu oil. The goal is to reduce sensitivity to the skin in a safe, fast and effective way for procedures such as suturing or giving injections.
Emu Oil: A Source of Non-Toxic Transdermal Anti-Inflammatory Agents in Aboriginal Medicine (1997)
By: Dr. Michael Whitehouse and Athol Turner, Dept. Of Medicine, University of Queensland, Australia (Source: Inflammapharmacology, San Francisco, March 1997 conference proceedings).
Summary: Ongoing studies on the anti-inflammatory activity of emu oil, as tested using the arthritis-induced rat model, indicate that different emu oils vary in their ability to suppress arthritic symptoms and that a chemical test for biological activity is needed rather than continuing to use the rat model.