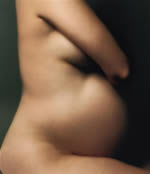 Emu Oil for Stretch marks
Emu Oil is effective in the removal, treatment, remedy and cure of stretch marks and other pale areas on skin, especially those caused by weight loss and pregnancy. Works on all kinds of stretch marks including red, white, or pink stretch marks. Equally effective on old stretch marks. Works on all kinds of skins regardless of race or color. The only thing that determines how quickly it works is how well the skin responds to Emu Oil. Response varies with individual's skin metabolism and texture. It also helps treating body itching and skin irritation. Additionally, it's a miracle smoother, natural moisturiser, and skin softener. Emu oil is loaded with Antioxidants such as Vitamin A, E and Omega Acids-3, 6, and 9. Emu Oil contains over 25 essential fatty acids (EFAs). Emu oil has high levels of linolenic acid (omega 3), known to temporarily ease joint pain and contains oleic acid (omega 9), known to have a local anti-inflammatory effect on dermal tissues.
Using Emu Oil For Stretch Marks & Scars
One of the newest uses of this remarkable oil is for the treatment of stretch marks and scars. Anecdotal evidence points to the effectiveness of emu oil for treating these damaged skin conditions. Whether stretch marks occur from pregnancy, weight gain or loss, or other causes, emu oil seems to be helping. The reduction of scar tissue formation from injuries and surgeries alike have also been reported. This natural omega rich oil has been used to minimise the development of stretch marks, scars,itch and to reduce the appearance of existing ones.
How do you use emu oil for stretch marks & scars?
Using your hand, apply a small amount of emu oil onto the desired area and gently spread it around. Keep in mind that one drop of emu oil will cover an area about the size of the back of your hand, so judge the amount accordingly.
Apply more emu oil if needed to cover the entire area. Since emu oil penetrates the skin you do not need to rub it in all the way. It usually absorbs into the skin on its own within a few minutes. The skin should not feel oily when you are finished. If it does, you have probably used too much. Simply reduce the amount that you use next time.
Repeat several times a day or as needed.
Photos provided by Emuse's Customer ~ she used 2-3 times daily and result after 6 weeks