Sale!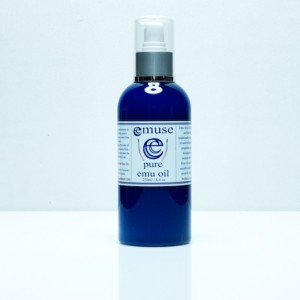 Pure Emu Oil 250ml
$72.00
These natural benefits of Emu Oil can help relieve Eczema, it may also help reverse the effects of certain chronic skin ailments and skin rash. Pure Emu Oil is a natural anti-inflammatory, anti-bacterial and cell-regenerating substance that helps to quickly repair wounds and even smoothens out scarring. A First Aid Kit each household should have.
Product Description
Emuse Pure emu oil can be used internally as well as externally.
Externally – Emu Oil is great for skin rash, arthritis, scars, burns, stretch marks, eczema and many more. Emu oil has been shown to reduce the depth and length of fine lines & wrinkles in many studies as well as being moisturising and a natural skin healer. Emu oil has been proven to be the fastest and most penetrating oil into the skin, as well as a carrier for any other therapeutic ingredients or skin care.
In many cases Emuse Emu oil has proven to reduce stretch marks and scars by up to 95% !
Internally – Emuse Pure Emu Oil contains a balance of Omega 3 6 & 9 essential fatty acids, which are vital for the health and wellbeing of every cell in our body. EFA's can not be made by the body, so they must be consumed by diet and supplements. We need a healthy balance of Omega 3 6 & 9 EFA's every day to stay healthy.
Pure Emu Oil Properties
* Hyper-Oxygenated – Pure Emu Oil effectively draws the blood supply to topically applied areas, accelerating circulation. This makes it ideal for Skin Care and Hair Care
* Anti Bacterial – It has shown anti bacterial properties, Pure Emu Oil will help stop the growth of bacteria
* Pure Emu Oil is a Natural Emollient
* Anti-inflammatory – can help reduce inflammation
* Hypoallergenic – does not cause skin irritation, ideal for people with sensitive skin
* Highly Penetrating – non-greasy, absorbs into the skin without leaving a greasy feel
* Non-Comedogenic – Pure Emu Oil does not clog pores
* Pure Emu Oil is 100% Natural
Additional Information