Sale!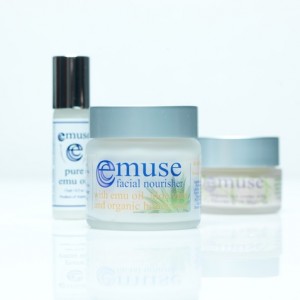 Value Packs – Anti Aging Set
$104.00
* Free courier service
Product Description
Anti Ageing Pack comes with –
1 x Organic Eye Creme with Co Enzyme Q~10 30g
1 x Moisturiser with Aloe and Organic Honey 60ml
1 x Pure Emu Oil Roll on 15ml
The emuse Anti Ageing Value Pack is for people that want to benefit from all our anti ageing products for a discount price. The Anti Ageing Value Pack combines 3 unique products, that when used in conjunction will help reduce wrinkles and fine lines, and replenish aged skin back to smooth silky skin.
Emu oil is effective in fighting wrinkles because it has a similar structure to our skins natural oils, so it can replace lost oils and vitamins and help to keep the skin young, nourished and supple. The pack contains products with many wrinnkles fighting ingredients like cucumber oil, aloe vera, Co Enzyme Q~10, honey, avocado oil and many more nourishing ingredients.
How to use Emuse Anti Ageing Value Pack:
Using these 3 products in conjunction will help to reduce wrinkles and slow down the skins ageing process. We have combined these 3 products in the Anti Ageing pack to target wrinkles on the face and eye area, age spots, and heal sun damage, blemishes and ageing skin on other parts of the body.
* All these products are safe and gentle for sensitive skin
* Emu Oil contains large amounts of omega vitamins which are vital to keep skin young.
* Emu Oil is non-comedogenic (does not clog pores), so this pack is ideal with people who suffer acne.
To Use: After cleansing and toning the face, gently apply the Organic Eye Creme to the eye area, and if you have wrinkles on your forehead or mouth, apply here also. Then use the Moisturiser with Aloe and Organic Honey on the rest of your face, neck and chest. Apply the Pure Emu Oil to wrinkles and sun damaged areas 3 – 4 times a week. This could be the neck and shoulders, and the eye and mouth area. Pure Emu Oil is gentle enough to use around the face and eye area, and you only need to use a small amount
Additional Information