How does Emu oil help on Psoriasis?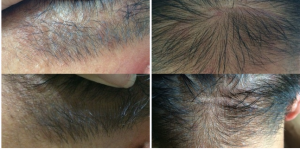 Psoriasis on scalp – using pure emu oil to apply onto the affected area and less then 1 week, dry scalp is reduce and baby hair is growing
Psoriasis is one of the top three complaints we hear about every week.
Psoriasis is an inflammatory skin condition. There are five types, each with unique signs and symptoms. Plaque psoriasis is the most common type of psoriasis. About 80% of people who develop psoriasis have plaque psoriasis, which appears as patches of raised, reddish skin covered by silvery-white scale. These patches, or plaques, frequently form on the elbows, knees, lower back, and scalp. However, the plaques can occur anywhere on the body.
Regardless of type, psoriasis usually causes discomfort. The skin often itches, and it may crack and bleed. In severe cases, the itching and discomfort may keep a person awake at night, and the pain can make everyday tasks difficult.
Emu Oil is a suitable treatment to help reduce symptoms of psoriasis due to Emu Oil's natural anti-inflammatory properties. Emu Oil brings relief from the pain and discomfort of psoriasis and can also help reduce the appearance of psoriasis by reducing redness, promoting smoother skin and reducing the amount of plaque that can build up on your skin.
Emuse Pure Emu Oil is HACCP approved and halal accredited,  it is safe and non-toxic, and suitable for internal consumption and external use.
There are many products out there that use additives and preservatives that can irritate psoriasis. Emuse Pure Emu Oil does not contain additives or preservatives and doesn't contain any harmful antibiotics or hormones.
Emu Oil doesn't promote the growth of bacteria and is hypoallergenic, so it's absolutely perfect for psoriasis where the skin is most likely to be irritated by scratching, which can lead to infection.
There's three ways to treat psoriasis.
A topical application is great for relief from itching and redness, 3-4 times a day.
Emu oil can also be used internally (or orally 10m or 4 capsules a day)  which helps reduce skin inflammation and psoriasis symptoms from the inside out.
The most effective treatment for psoriasis is to use a combination of topical and internal applications. We find most psoriasis sufferers prefer this method because their symptoms tend to clear up in shorter time frame and they are able to keep symptoms under control.
---