Eczema cured in 6 days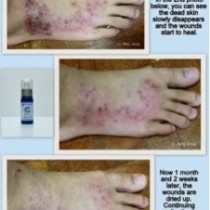 Eczema is cured in just 6 days with Emuse Pure Emu Oil! 
I just wanted to share what one of our happy customers . This lady had her on her sole eczema cured in just 6 days using only Emuse pure emu oil – we are thrilled with the result!
Why is emu oil good for Eczema? What is Eczema? A skin disorder also known as atopic dermatitis, is a serious skin problem. Once it appears, the rash can last weeks or months. Eczema usually occurs in people with a personal or family history of atopy (allergic asthma, rhinitis, conjunctivitis, or food allergies). For those who suffer from eczema, the red, itchy skin rash can be very irritating and sometimes painful. Sufferers often have to take expensive antibiotics or other prescribed medication, which may have additional negative side effects themselves.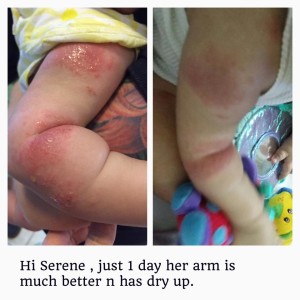 Using Emu Oil to Treat Eczema and Skin Disorder ~ Usually most people has a negative perception towards oil base product especially in our humid hot weather, But why pure emu oil managed to help and relief 80% of  eczema conditions / Skin disorder?   Emu oil is a natural and safe remedy.  Its anti- inflammatory properties help to reduce the inflammation and sooth the skin. The anti–bacterial properties also help to stop the growth of bacteria and prevent it from spreading. Using Pure Emu Oil for eczema will help to relieve the inflammation and itching, as well as to reduce the chances of flaring up again. Pure Emu Oil is a carrier oil ,  hypoallergenic so it does not cause skin irritation , block pores or  any side effects.
Here's your chance to leave a comment!